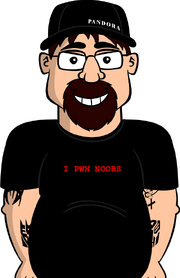 Tha Mike is the leading host on The Awful Show. He is a 33 year old married male, with a daughter who is almost 3 and he hates writing bios. For the sake of the page, he decided to "just fucking write one".
He's the bitcher and complainer on the show. Nothing is ever good enough for him (He has a love/hate relationship with our audience) and he speaks his mind openly on a regular basis. He doesn't like many people in this world, but the ones he does, he treats very well and he has excellent friendships with them. (I.E. the guys on this show). Besides his talents of being a pessimist, his duties on the show are basically to keep things running in the right direction like an air traffic controller. Also, he is pretty good with the prank call games according to the listeners.
Back in his early 20's, he stumbled into radio by chance by being hired to board op baseball games on a miniscule AM station in York, PA. He decided his funny commentary would be better and no one was listening anyway, so he started announcing the games himself. After being with the AM station for a week, the sister FM station which was top 40 at the time switched to Alternative and all the DJ's quit. He was moved over to the FM station to do the 7-Midnight shift on weeknights and eventually became #3 in the market. After the station started carrying the Howard Stern show in the mornings, the PD decided to hire real DJ's and he was switched to overnights on the weekends where he remained #1 until he quit.
When Nerraux came out from Pittsburgh, PA to Reading, PA for a job, he became roommates by happenstance and Nerraux has been his sidekick ever since. Or is he Nerraux's sidekick? It depends on who you're talking to.
Nerraux and Tha Mike always talked about doing radio together and after a long time of thinking they should do it, they decided podcasting was the way for them. Nerraux could be clean enough for your grandma to listen to if he wanted to. Tha Mike on the other hand doesn't censor himself so regular radio wouldn't work. They brought on Keyz full time after realizing how talented he is and then brought on Joel to even them out with his comedic styling's.
He is very thankful to work with this crew and sees big things for them ahead in the future.