(9 intermediate revisions by 3 users not shown)
Line 1:
Line 1:
 
+

[[Image:Smettetoon.png | thumb | Cartoon Version of Seamonkette]]

−

Seamonkette is one of the hosts of The Awful Girls snack.

 
 
+

Seamonkette is one of the hosts of The Awful Girls snack. She was born a poor white child in Fort Worth, Texas on the day she was born. The raw talent that you hear every episode of The Awful Girls comes from a life of honing the performing bug that obviously bit her at a young age! Putting on magic shows, variety shows, dance shows, music videos...that was normal around her house as a child, and that is part of what she hopes to bring to the Awful Girls! Lots of mind-numbing talent!

 
+
 
+

Her name did not change to Seamonkette until she met a hot-but-still-raw parody/comedy talent named [[Seamonkey]], and [[Seamonkey]] did not become the household name it is today until then either! Single-handedly cultivating and marketing the [[Seamonkey]] to a wider audience, now the REAL brains behind the operation has stepped to the forefront, becoming the first ever Miss Awful Show and the beloved host of The Awful Girls! With [[ZGK | Zack's Girl Kelly]] and [[Evil Cheshire Cat]] as her partners in crime, podcasting will NEVER be the same!

 
+
 
+

She loves caramel, owns at least a hundred thongs that are soooooo cute, is a Guitar Hero, can "sing about her boobs to some metal or punk" and can pwn you in Sudoku twelve ways to Sunday!

 
+
 
+

''It's ALL for the fans''

 

[[Category:Hosts]]

 

[[Category:Hosts]]
---
Latest revision as of 17:07, 8 January 2009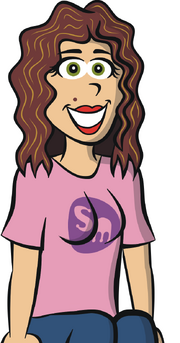 Seamonkette is one of the hosts of The Awful Girls snack. She was born a poor white child in Fort Worth, Texas on the day she was born. The raw talent that you hear every episode of The Awful Girls comes from a life of honing the performing bug that obviously bit her at a young age! Putting on magic shows, variety shows, dance shows, music videos...that was normal around her house as a child, and that is part of what she hopes to bring to the Awful Girls! Lots of mind-numbing talent!
Her name did not change to Seamonkette until she met a hot-but-still-raw parody/comedy talent named Seamonkey, and Seamonkey did not become the household name it is today until then either! Single-handedly cultivating and marketing the Seamonkey to a wider audience, now the REAL brains behind the operation has stepped to the forefront, becoming the first ever Miss Awful Show and the beloved host of The Awful Girls! With Zack's Girl Kelly and Evil Cheshire Cat as her partners in crime, podcasting will NEVER be the same!
She loves caramel, owns at least a hundred thongs that are soooooo cute, is a Guitar Hero, can "sing about her boobs to some metal or punk" and can pwn you in Sudoku twelve ways to Sunday!
It's ALL for the fans