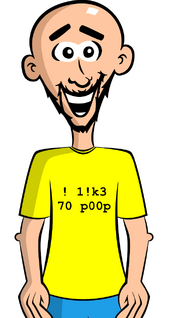 Joel is one of the secondary supporting hosts on The Awful Show. He was born way back in 1974 and raised in Kansas City, MO. He lived there for the first 18 years of his life. After graduating high school, he moved to Chicago. After schooling there, he moved back to the Kansas City to start a family (despite his insistance that he would never do that). He and his family moved out to Colorado to settle in for the long haul. After moving there, he set up Awful Show Studios: West, which serves as both a place to record on Friday nights and as a secret masturbation station.
He started working in radio in college, where he helped to implement the first radio station at his school. He pursued that love to his second college, where he promptly changed gears to study screen writing instead (partly due to peer pressure and finding out the drugs are better).
Although he never got his degree, he did realize that he had left for school a boy, and came home a slightly older boy, which no degree can show you how to become. From there, while working at an internet company, he started his e-mail based comic strip, "Gregory: The Really Angry Robot". Somehow drawing pictures of the CEO as a pot smoking pirate got the creative juices flowing. The comic has now been running for about 7 years (send him an e-mail to join), and although it's on and off again of a hiatus status, it's always lurking in the shadows...just like Joel...in your closet.
He's a published author, an on-and-off again musician, an actor and an artist. He's got a beautiful wife, two wonderful children and a 12 year old bassett hound. Now he's got you...got you wet and ready for some hot whiffle ball action! SCHPLAOW!