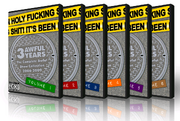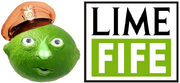 (Holy Fucking Shit! It's Been) 3 Awful Years is an anthology of all casts from the first show in 2006 to the 156th show marking the 3rd year anniversary. All casts have been split up into tracks and volume stabilized for easier listening. Tracks are burned on a set of data DVDs. The set is being distributed under the fictional label "Lime Fife" media (a parody of "Time Life", known for their numerous book and video collections)
Package Break-Up
[
]
The series will be released in 6 individual volumes containing 2 disks each.
Here is what each volume will contain (subject to adjustment)
Release dates are tentatively scheduled as follows:
Promotional
[
]
Individual volumes will be sold for $10.69 each. Purchasing the whole set will result in a "1 volume free" price reduction ($53.45 total). Prices include shipping to the continental U.S. Also "Awful Show swag" is still being considered but will most likely be buttons or magnets of some design.
The Pitch (Subject to Adjustment)
[
]
Do I need to buy these DVDs to hear the show?
Certainly not! You can download all the episodes and snacks anytime at http://www.theawfulshow.com
Then why should I buy them?
There are a number of possible reasons...
Because all proceeds go directly into the show to keep it the best fucking podcast in the world.
Because you are picky when it comes to your audio and the idea of all the material digitally remastered gets you hard and/or wet.
Because you are an Awful Show fanatic and love to collect high quality memorabilia.
Plus, when you purchase the whole set, you not only get 6 volumes for the price of 5, but you also get bonus Awful Show swag as our gift to you.